This meal was held at Joe and Ronnie's on March 30. Eating outside on the patio was very nice. We had to trust the cooks as lights were kept low to enhance the candelight atmosphere. We celebrated 3 birthdays - Ronnie and Joe's, along with Sharon's. Katherine was with us, visiting from California.
Pastel com o Diabo Dentro
Makes about 24 pastries
This appetizer gets its name from the hot peppers in the filling. Be sure to use fresh tuna, if available, because the hot pepper marinade permeates the raw fish and gives it a more pungent flavor. The combination of sweet potato, cornmeal, and tuna may seem strange at first, but just one bite will convince you otherwise. "Fantastic" will be your response. Double the recipe if you are planning a party. These pastries, along with soup and salad, also make a nice lunch.
Pastry
| | |
| --- | --- |
| | 2 large sweet potatoes, unpeeled (about 2 1/2 pounds) |
| | 2 cups finely ground yellow cornmeal or regular cornmeal |
Filling
| | |
| --- | --- |
| | 1 pound fresh tuna, chopped fine by hand, or 2 (6-ounce) cans tuna |
| | 1 teaspoon salt |
| | 1 to 2 tablespoons red-pepper flakes, or 2 chile peppers, finely chopped |
| | 3 large cloves garlic, minced |
| | 1 tablespoon white vinegar |
| | 2 tablespoons vegetable oil |
| | 1 medium yellow onion, coarsely chopped |
| | 1 large tomato, finely chopped |
| | 2 teaspoons tomato paste |
| | Vegetable oil for frying |
Pastry
1. Wash potatoes and place in a 5-quart pot with water to cover. Bring to a boil, reduce heat, and simmer until potatoes are tender (about 30 minutes). When potatoes are done, remove from pot, cool, and save the water. Peel potatoes, cut into cubes, and mash until all lumps disappear.
2. With a wooden spoon, stir in cornmeal, 1/2 cup at a time. Continue to add flour until mixture forms a soft dough. If dough becomes too dry, add a teaspoon or two of the water from the boiled potatoes. Roll dough into a ball, cover with a damp cloth, and refrigerate while you prepare the filling.
Filling
1. Place tuna in a small bowl. Add salt, red-pepper flakes, garlic, and vinegar and mix well. Marinate tuna for 30 minutes.
2. Heat oil in medium fry pan, add chopped onion and sauté until soft and transparent. Add tomato and tomato paste, mix well, and simmer 5 minutes or until tomato is soft. Stir in the tuna mixture and cook over low heat for about 5 minutes (or, if using canned tuna, until mixture is heated through). Add water from potatoes, as needed, so that the mixture remains moist. Remove from heat and cool.
3. Remove dough from refrigerator. Spread a sheet of plastic wrap on counter. Place 1 heaping tablespoonful of dough, about the size of a golf ball, in the center of the plastic wrap. Press with the heel of your hand to form a circle 3 to 4 inches in diameter. Place a tablespoon of filling in the center of the dough. Fold plastic and dough over filling to form half circle. Pull back plastic and pinch edges of dough to seal. Repeat with remaining filling and dough.
4. Heat 1 inch of oil in a large skillet to a temperature of 350°F (180°C) or until a test piece of pastry sizzles. Fry pastries until golden, about 3 minutes each side. Drain on paper towels and serve warm or at room temperature.
Cook's Notes: Cornmeal: I have made this recipe with both finely ground cornmeal (harina) and regular cornmeal. The regular cornmeal gives a coarser texture to the dough and a more substantial pastry. The harina makes a lighter dough.
- brought by Sharon and Don
Caldo Verde
(Portuguese Kale Soup)

Serves 6 to 8
Considered by many to be Portugal's national dish, caldo verde is found everywhere-in the dining rooms of Lisbon's most luxurious hotels to the humblest of country homes. It's a versatile dish: Serve as a one-course meal at lunch or as a light supper in the evening. What's crucial when preparing it is that the kale is cut into extremely fine slices; that's what creates the soup's distinctive character.
| | |
| --- | --- |
| | 1/4 cup olive oil |
| | 1 large Spanish onion, diced |
| | 2 cloves garlic, thinly sliced |
| | 10 ounces chouriço sausage, diced |
| | 6 medium potatoes, peeled and diced |
| | 8 cups cold water |
| | 1 pound kale or collard greens, cut into very fine julienne |
| | Salt and pepper to taste |
1. In a large pot, heat the olive oil over medium heat. Add the onions and cook until they are translucent. Add the garlic and half the chouriço and cook for 2 minutes. Add the potatoes, cover everything with the water, bring to a boil and lower the heat, simmering until the potatoes are almost done, about 15 minutes.
2. When the soup is cool enough to handle, purée it in the food processor and return to the pot. Add the greens, bring everything back to a boil and simmer for 2 minutes. Season with salt and pepper, ladle into bowls and garnish with the remaining cubes of chouriço.
- brought by Dar and Wayne
Bacalhau à Gomes de Sá
(Codfish with Potatoes Casserole)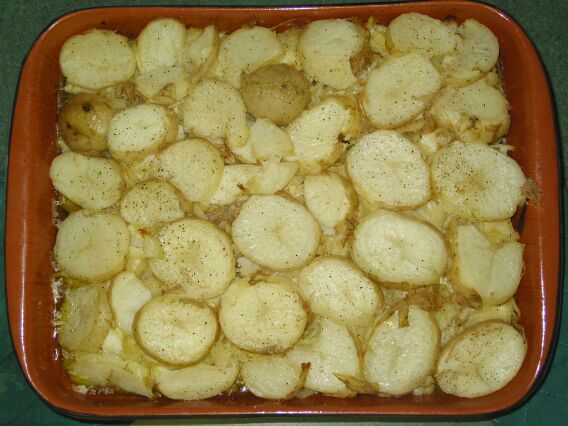 Serves 6 to 8
Chef Azevedo, born on the island of São Jorge in the Azores, literally turns this favorite upside down. Instead of cooking and serving it from the casserole dish, as is customary, he inverts it onto a cookie sheet then removes the dish, allowing the exposed codfish to brown slightly and the layer of potatoes on the bottom to crisp.
Hint: If you prefer well-done potatoes, leave the inverted casserole dish in place and cook for the recommended time, then uncover and continue cooking until the codfish is lightly toasted. The additional time will allow the potatoes to get extra-brown.
| | |
| --- | --- |
| | 2 pounds salt cod |
| | 6 tablespoons olive oil, plus extra for drizzling |
| | 2 large yellow onions, sliced |
| | 4 cloves garlic, minced |
| | pinch nutmeg |
| | White pepper, to taste |
| | 4 medium waxy potatoes, boiled, cooled, peeled and cut into 1/4-inch slices |
| | 8 hard-boiled eggs, halved, for garnish |
| | Portuguese olives and chopped parsley, for garnish |
1. Rinse the cod under cold running water to remove any surface salt. Place the fish pieces in a large nonreactive pot, cover with water and refrigerate (covered) for 24 hours, changing the water several times.
2. Pour off the water, refill the pot with clean water and gently boil the cod until it flakes easily with a fork, about 7 to 10 minutes (or longer), depending on the thickness.
3. Meanwhile, heat 3 tablespoons of the oil in a large skillet over medium heat, and sauté the onions until barely brown. Add the garlic and cook a minute more. Set aside.
4. Drain the cod and let cool. Flake it into a large bowl and remove any bones or bits of skin. Add the onion-garlic mixture, nutmeg, white pepper and remaining olive oil, and toss lightly. Pack the mixture into well-oiled 9-x-13-inch ovenproof casserole dish. Cover the codfish with the potato slices.
5. Lightly oil a cookie sheet, place it over the casserole and invert.
Carefully remove the casserole dish to keep the cod mixture intact. Bake in a preheated, 400°F (200°C) oven for 20 to 30 minutes, or until cod is lightly toasted.
6. To serve, cut a square of cod and center it on a plate. Drizzle with additional olive oil to moisten. Garnish with 2 egg halves, several olives and some parsley.
- brought by Ronnie and Joe
Favas com Coentro
(Fava Beans with Cilantro)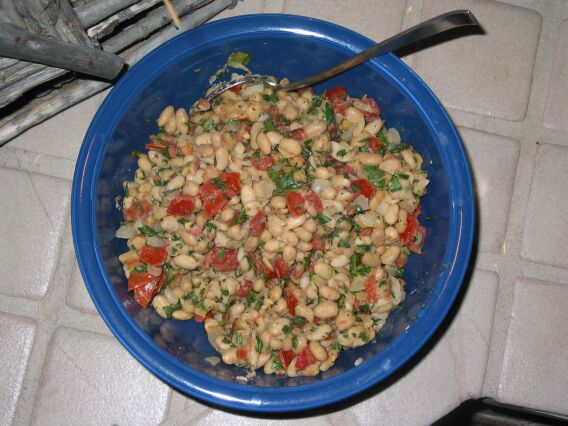 Serves 4
A liberal amount of chopped cilantro and chopped tomato stirred into the beans just before serving makes this a particularly interesting and memorable way of serving fava beans.
| | |
| --- | --- |
| | 2-ounces bacon, chopped |
| | 1 medium onion, finely chopped |
| | 1 pound shelled fresh or thawed frozen fava beans |
| | salt and pepper |
| | 2 tomatoes, peeled, seeded, and chopped |
| | 3/4 cup chopped fresh cilantro |
1. Cook the bacon in a heavy saucepan until the fat runs. Stir in the onion and cook until softened. Add the beans, barely cover with water and simmer until they are tender, 5 to 15 minutes depending on the age of the beans; or cook according to the directions on the package if using frozen beans.
2. Strain the beans and return to the pan. Stir in the seasoning and tomatoes, cover and heat gently, shaking pan occasionally for a few minutes to warm the tomatoes. Stir in the cilantro and serve.
- brought by Linda and Chuck
PAO DOCE
(Portuguese Sweet Bread)

Makes 4 loaves
| | |
| --- | --- |
| | 2 pkg active dry yeast |
| | 1/2 cup warm potato water |
| | 3 tablespoons sugar |
| | 1 cup mashed potatoes |
| | 1/8 teaspoon ginger |
| | 1/2 cup milk |
| | 2 teaspoons salt |
| | 6 eggs |
| | 1 3/4 cups sugar |
| | 1/2 cup butter or margarine, melted |
| | 8 to 10 cups flour |
1. Dissolve yeast in potato water. Stir in the 3 tablespoons sugar, potatoes and ginger. Cover; let rise until doubled.
2. Scald milk; add salt and cool to lukewarm. In small bowl of electric mixer, beat eggs; gradually beat in the 1 3/4 cups sugar. Stir into yeast mixture. Add butter and mix well. Stir in 2 cups of the flour, then milk. Add 2 more cups of the flour; beat 5 minutes. Stir in enough remaining flour to make a stiff dough.
3. Place on lightly floured board and knead into remaining flour until dough is smooth and elastic, about 8 to 10 minutes. Place in greased bowl, turning in grease top. Cover; let rise until doubled.
4. Grease four 9 X 5 X 3-inch loaf pans. On a lightly floured board, divide dough into fourths. Shape each fourth into a loaf; place in prepared pans. Cover; let rise until doubled.
5. Preheat electric oven to 325 degrees F. Bake for 45 minutes or until done.
- brought by Ronnie and Joe
Brazilian Chocolate Cake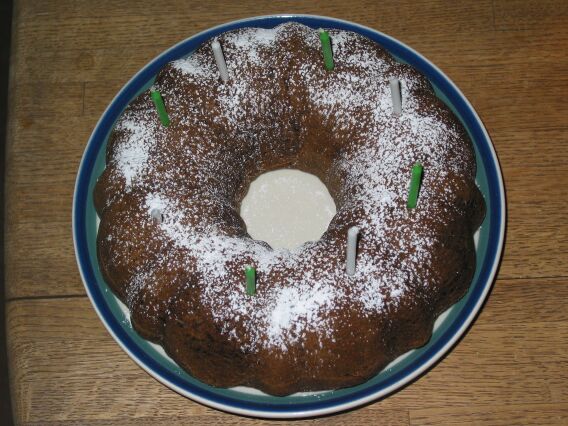 Serves 8 to 10
For the best results, make sure to have all the ingredients at room temperature, except, of course, for the hot coffee.
| | |
| --- | --- |
| | 3 ounces high-quality semisweet chocolate, chopped |
| | 1 ounce high-quality unsweetened chocolate, chopped |
| | 1 cup plus 2 tablespoons hot, strong coffee, divided as below |
| | 1/2 cup unsalted butter, room temperature |
| | 1 1/2 cup granulated sugar |
| | 2 large eggs, room temperature |
| | 1 teaspoon vanilla extract |
| | 2 cups sifted cake flour |
| | 1 teaspoon baking soda |
| | 1/2 teaspoon salt |
1. Preheat the oven to 350°F (190°C). Generously butter and flour a 10-inch bundt pan. Tap out the excess.
2. Melt the chocolate and 3 tablespoons of the hot coffee in a double boiler over low heat until smooth. Remove from the heat and cool to room temperature.
3. In the bowl of a stand mixer (or in a medium bowl using a handheld mixer), cream the butter. Gradually add the sugar and beat until light and fluffy, about 3 to 5 minutes. Add the eggs, one at a time, and mix until incorporated. Add the vanilla and the melted chocolate/coffee mixture until batter is even in color.
4. On a piece of waxed paper, resift the flour along with the baking soda and salt. Using a flat spatula, sprinkle 1/3 of the dry ingredients over the batter. Beat on low until no flour is visible. Pour in 1/3 of the coffee and mix to blend. Continue alternating until all the flour and coffee has been used.
5. Pour the batter into the bundt pan and bake for 40 to 45 minutes, or until the cake just pulls away from the sides of the pan and a toothpick inserted in the middle comes out with a few moist crumbs clinging to it. Let rest 5 minutes in the pan, then invert onto a lightly greased rack to cool.
6. When cool, dust with powdered sugar. You may cut the cake in half horizontally and fill it with chocolate icing, but it's wonderful just as is.
- brought by Linda and Chuck
These recipes were found from a variety of Portuguese cooking books, including:
| | |
| --- | --- |
| | Pastry with the Devil Inside from Cape Verde, by Cherie Hamilton |
| | Portuguese Cooking, by Hilaire Walden |